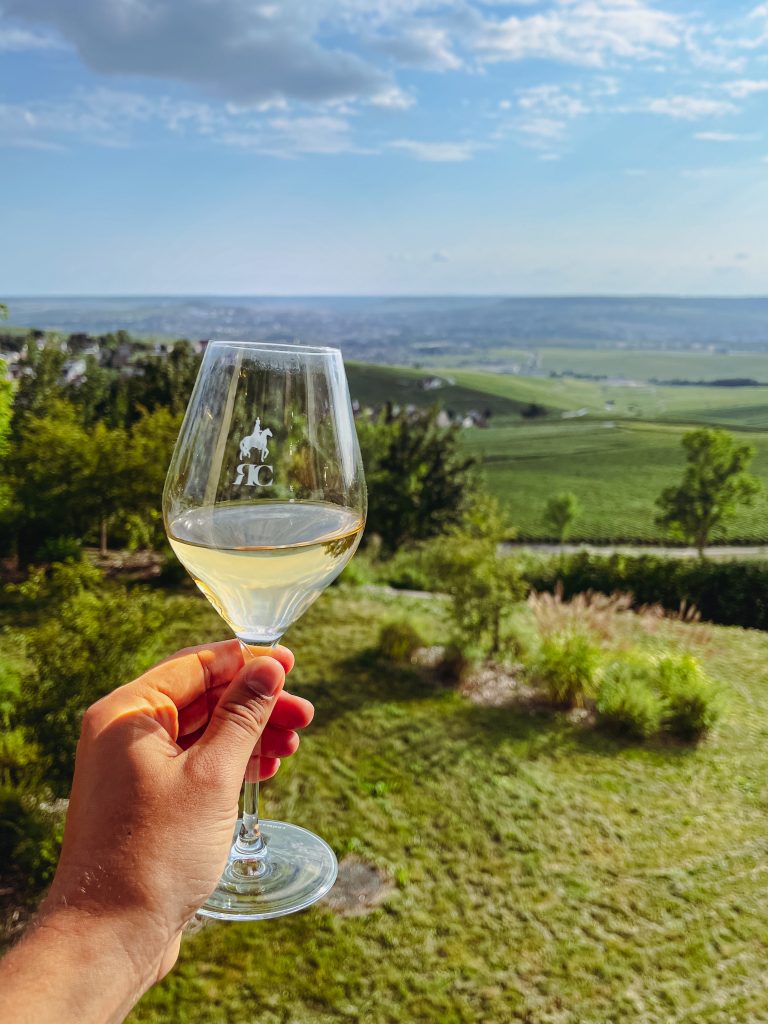 Getting there
The Champagne region of France is located about 1 hour and 45 minutes away from Charles de Galle airport. Car transfers from the hotel and services like Blacklane were ~$1000USD, so we decided to rent a car and drove to the Royal Champagne Hotel & Spa. Since our flight from Athens arrived around 7pm and it took an hour for our luggage to show up at baggage claim, most of the drive there was in the dark.
Check-in
We arrived a little after 10pm and a bellman came to help with our luggage. At check in, we realized that the Panoramic Junior Suite we booked didn't actually have a balcony, so we toured it as well as the Royal Junior Suite (a category below), which had a balcony.. The Royal Junior Suite was significantly smaller and the balcony actually overlooked a common space area of the resort. Ultimately, we decided to stick with our originally booked room, but we thought it was odd the higher category room didn't have a balcony to sit on and relax.
Panoramic Junior Suite
Our Panoramic Junior Suite was located at the corner of the hotel's 2nd floor and had a king-size bed, desk, walk-in closet, a bathtub room with a sink, a shower room with a sink, and a half bath. The room was well appointed, and I loved the French sleek design.
The two oddities about the room were the lack of a balcony and the location of the toilet. There was a very skinny balcony you could stand on and drink coffee (or champagne) but it wasn't wide enough for a chair. It would have been nice, especially given the higher room category, to have a full balcony. The location of the toilet wasn't in the tub or shower room but in the hallway close to the suite entrance. It felt like an odd location, which I chalked up to the room's corner location.
Main property
The resort is stunning and even though it opened in 2018, felt brand new. On the lowest level of the resort is the spa, which was massive and gorgeous. It featured a large indoor pool, several jacuzzis, about 9 treatment rooms and an outdoor pool with loungers.
On the 2nd floor (the floor we stayed on), there is a library, beautiful living room, champagne tasting area and large outdoor terrace.
The reception area and a small boutique are located on the 3rd floor in addition to more rooms.
The main restaurant, Bellevue, is located on the 4th floor. Bellevue is open for all-day snacking as well as breakfast, lunch and dinner. They had a lot of tables as well as outdoor sofas for more casual eating. The view of the nearby town, Chapmillon, and farther out, Epernay, was drop dead gorgeous.
The resort's Michelin star restaurant, Le Royal, is also located on this floor.
Food
We really liked the food at Royal Champagne. Most mornings we had breakfast delivered to the room and there was no trolley charge. There were a lot of included items you could choose from and a few items that were available at an additional charge. You could order as much as you'd like.
We had lunch at Bellevue on the terrace and really liked the 3 course menu they offered. We had a gazpacho starter, chicken breast entrée and an apricot dessert.
For dinner, we had a delicious grilled sea bass with rice pilaf and veggies.
Unfortunately, Le Royal didn't offer outdoor dining so we decided not to eat there. I found another Michelin Star restaurant, Le Grand Cerf, which was only 10 minutes drive away and had a terrace. I confirmed ahead of our trip that we would be able to eat outside, but when we arrived they said it was not possible because of the weather. I thought that was bizarre since a lot of the resort staff mentioned this was one of the warmest nights of the summer in Champagne.
Service
Service was impeccable. I found the team to be very quick with every request. Breakfast always arrived quickly, the front desk team was extremely responsive with coordinating wine tastings, and housekeeping was always done when we returned after an outing or meal.
I found it especially thoughtful that after we asked housekeeping for mouth wash, they restocked it each time they refreshed our rooms.
Activities
Champagne tastings, of course! We visited two champagne houses during our stay, Salon and Taiitinger.
Salon
The salon house is located right next to the Delamotte house, which are both a part of the Laurent-Perrier group. Salon is arguably the best champagne in the world so we were very excited to be touring and tasting there.
Our guide, Cristian, was great. We walked through the original house, toured the cellars and got to sample both Delamotte and Salon Champagnes.
Taittinger
Taittinger is another one of our favorite champagnes, but I didn't realize until our visit how big of a producer they are. They are the 3rd largest grower of grapes in the region behind Moet and Chandon and Veuve Clicquot (both of which are owned by the luxury conglomerate Moët Hennessy Louis Vuitton or LVMH).
The tour started with a video about the history of Taittinger then a tour of the caves followed by a tasting. They had a gorgeous outside courtyard but we were required to taste indoors, which felt a little thoughtless during COVID. They have a shop on site as well, but prices were more expensive than if we bought the bottles at home.
Other than champagne tasting, we also enjoyed a long walk to the nearby Hautvillers where Dom Perrignon is buried as well as walking through Champillon. The towns look straight out of a fairytale and almost all the towns in this region are focused on the Champagne industry. The towns where the highest quality grapes come from, called Grand Cru on champagne labels, were always proudly on display as you walked or drove by.
Considerations
Living so close to California wine country, I wasn't expecting to be wowed by Champagne, but I was. Wine tourism isn't a very big industry for this region, so I really liked the small-town, sleepy feel of the area. The rolling vineyards are beautiful and the little towns are story book perfect.
Royal Champagne is a great place to serve as a base for exploring the area. Although the hotel is so gorgeous it is hard to leave.
The hotel was better than most Napa hotels.
The higher category rooms are significantly larger and offer better views than the base rooms. It's worth the splurge.