Jason and I found points availability for Air France Business Class in November when we were in San Diego waiting for our twins to be born. We weren't sure then if we were going to be able to go, but we liked the flexibility a points reservation has in case we wanted to change or cancel our trip. Flash forward to June, we decided to go and make it a shorter, dads-only trip to reconnect and take a break. We are so fortunate and grateful to have such a positive, loving support system at home to allow us to travel together.
Booking this flight
I booked this award flight about 8 months ago using 65,000 Flying Blue Miles, Air France's loyalty program. I already had a few thousand points (I often credit my Delta flights to AF), but most of the points I transferred instantly from my American Express Membership Rewards points at a 1:1 ratio. 65,000 points for a one-way lie-flat business class seat to Europe from the West Coast is a very good deal, but given the insane demand for travel this summer, it turned out to be a stellar deal. The same seat typically sells for around $1750 cash, which means I redeemed at 2.7 cents per point for this booking.
Check in
Air France allows passengers to check in 30 hours prior to departure, and typically offer a buy up at check in depending on seat availability. There were two La Premiere First Class seats still available on our flight, but we weren't offered a buy up in the app. At the check-in counter the next day, we asked about upgrading to First Class since the 2 seats were still available, and our offer was $2,850 per person. The agent said it was the "discount" upgrade offer, but it was still extremely expensive and more than we wanted to spend. Ultimately, we decided to pass and stick to our original seats. By keeping their First Class seats at high price points and making it nearly impossible to redeem with points, Air France goes to great lengths to protect their First Class cabin, which I can appreciate.
Air France Business Class Lounge at SFO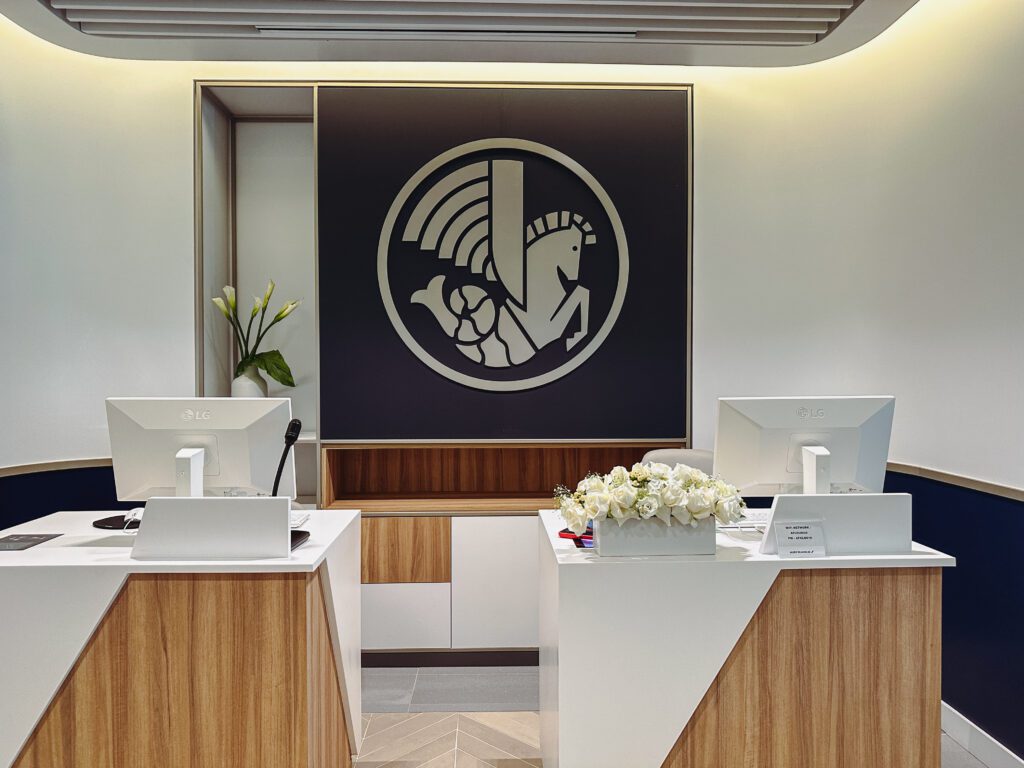 Air France has spent the past few months renovating their business class lounge at SFO, and it just reopened a few weeks before my flight. I was excited check it out and it did not disappoint. Before the renovation, the lounge felt dated and dingy and more like a priority pass lounge (IYKYK) than a chic European business class lounge. Now the lounge felt open and airy, and I loved the colored palette they chose.
The lounge layout is similar to what it was before and there are a ton of different of seating options such as low sofas and tables, bar stool seating and dining tables. Around back they added some comfortable booth-style seating and a beautiful bar.
To the right of the bar, is a discreet door to a private room for passengers flying in La Premiere First Class. To the left of the bar are the bathrooms and showers.
The French brassie style food was delicious, and I was happy to learn they were pouring Piper Heidsieck ($45 per bottle) champagne. It was nice touch to see them serving a quality champagne since they are the flagship carrier of France, but oddly enough, it was a nicer bottle than what they served on board during the flight.
One of the biggest drawbacks of the lounge pre-renovation was how crowded it would get, but during our visit it was quiet and even though it filled up closer to departure there was definitely enough space for everyone. It seemed like they were only allowing Air France and KLM business class passengers (not Priority Pass members) in before their flights, and I hope they keep that policy for crowd control.
Boarding
The gate was packed and boarding lanes were not clearly marked, so it was a cluster when they eventually started boarding about 15 minutes late. Instead of scanning boarding passes, Air France used a biometric scanner at the gate. Neat!
The seat
Once on board I found my way to 5A, which is a window seat angled toward the window for privacy. All window seats in the 1-2-1 business class cabin are like this, and I highly recommend choosing one of these seats on this plane. Even traveling as a couple, my husband and I picked window seats one in front of the other because they offer more privacy than the middle seats.
Waiting at my seat was a hanger for a jacket, a blanket and pillow.
It's worth pointing out that this business class seat is old and showing its age. AF has started refurbishing some of their planes with brand new business class seats that even have a privacy door, but unfortunately, they haven't put one of their updated planes on this route. Womp womp.
Before takeoff, the crew came around with amenity kits and then offered orange juice or champagne.
Meal service
Here is a look at the menus I was given on board:
I pre-selected my duck confit entrée a few days before my flight on the Air France app and a flight attendant confirmed that it was still the meal I wanted before meal service began.
First up was a little raw fish starter, followed by a trio of appetizers and my main. The food was just okay, nothing to write home about. Here are some pictures of my meal:
About an hour before landing in Paris, I had some eggs and tea for breakfast. Again, it was just ok.
Sleeping
I went to sleep shortly after dinner to try to get a jump start on the time zone change. There are no pajamas or mattress pad offered, so it's a pretty bare bones business class product with a blanket and flimsy pillow. Nonetheless, I was able to get a few hours of sleep before we landed in Paris, and I am always grateful to have a lie-flat seat on long-haul flights.
Service
I haven't commented on service very much because it wasn't a highlight of the experience. It was welcoming but not warm and really just felt like they were working on a schedule rather than focused on the passengers.
Final considerations
This is my third time flying AF Business Class, and I always want it to be more chic than it is. For only 65,000 points this was an incredible points redemption for a lie-flat business class seat to Europe in the summer, and I don't think I could have found a better deal. If you find a similar points rate, I'd recommend booking it. If I was paying cash for a business class seat to Europe, I think there are better options out there in terms of seat, food and service. I would look at United Polaris and Swiss Business Class options over Air France.