Booking this stay
Rancho Pescadero is part of Hyatt's Unbound Collection, and recently went through a major renovation and expansion (it actually still felt like they were working on the expansion, more on that below) before re-opening to guests in November 2022.
We used Hyatt points to book an Oceanfront Milagro Suite, their highest category suite you can book with Hyatt points. At 60,000 points per night, it is an okay redemption, not great. A quick reminder about points redemptions is that by doing a complete points redemption (i.e. not cash and points) you avoid paying taxes, which is essentially an additional 35% in Mexico!
Getting there
The resort is a little over 1 hour drive from the Cabo San Lucas airport (SJD). Initially and when booking, I didn't think much of it but the extra hour of transit made our travel day feel really long. It's worth considering staying at a resort in Cabo if you're trying to maximize time at the resort, which is exactly what we were hoping to do on a short weekend getaway. The last mile or so to get to the resort is an unmarked, unpaved sand road that is very bumpy. I think it would behoove Hyatt to pay to pave that road.
We booked the transfer service through the hotel which came out to $460USD round trip. Even with the 1+ hour transfer,, I felt like that was absurdly expensive. We looked into renting a car and doing the drive ourselves, but the reviews of the Hertz Rental Car in Los Cabos scared us off (literally a majority of reviews accused them of outright fraud). Here is the link if you're curious about why they only have 1 star!
Checking in
We arrived at 2pm and were encouraged to open the door to the resort, their way of symbolizing the resort is your home during your stay.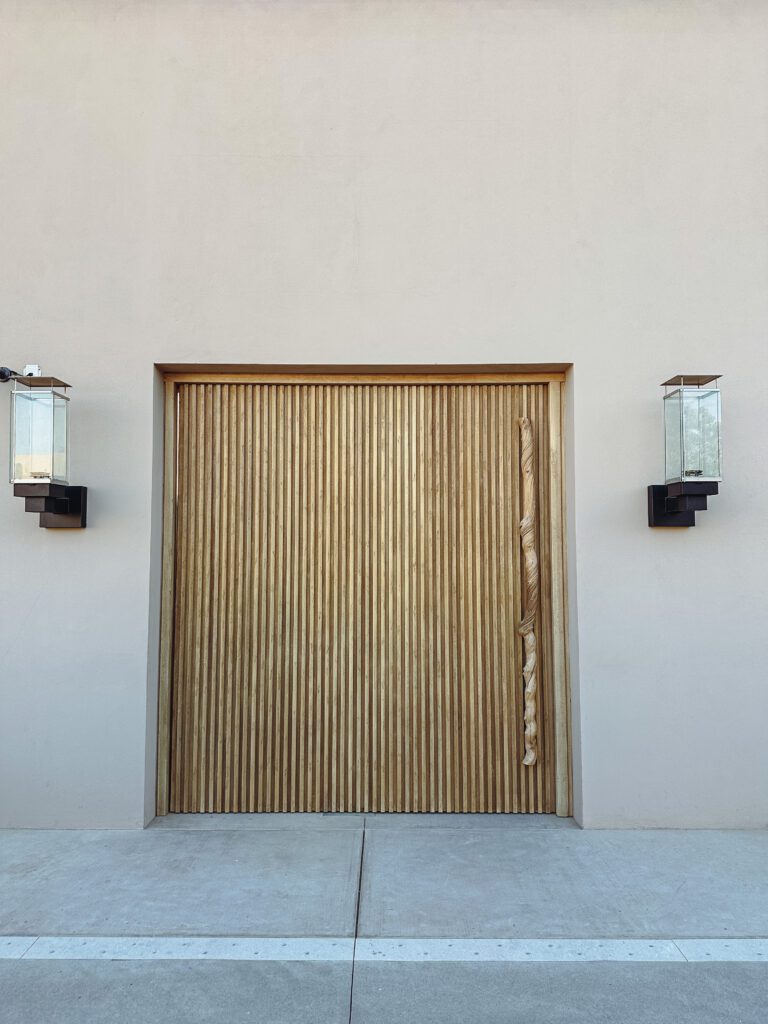 Upon entering, there is an open-air relaxation area where you are offered fruit with infused water and then an associate can either walk or drive you to the check-in desk.
We decided to walk through the well-manicured desert gardens, which were beautifully maintained.
The "front desk" is just two high top tables where you complete the check-in process and get your room keys, which are wristbands that also allow you to pay for food and drinks on property. Oddly, I think they are trying to eliminate a formal check-in process, but it felt like a two-step process instead. I would have loved if the associate could take you directly to your room to complete check-in.
Unfortunately, our room wasn't ready but the front desk agent allowed us to go look at it anyway because we were considering moving to another room type. This is when we first learned that the resort was still under construction. Many of the pathways don't connect yet, so we cut across the sand or garden to get to the room. It wasn't a huge deal for us, but it could be if you were planning on wearing shoes that weren't flats. Our assigned suite was at the edge of the property, which I thought would be great since we were looking for a super quiet and private stay. Unfortunately, directly next to the building with our room is where they are currently constructing a new restaurant for the property. The construction zone noise definitely wasn't going to help us relax on our short stay.
It took the front desk team 45 minutes to connect via phone with a mysterious person who had authority to move us and when that mysterious person finally came out to meet us, their solution was to downgrade us in order to move us away from the construction. We asked for an upgrade, not a downgrade for the inconvenience, and so they moved us to a one-bedroom oceanfront villa. The check-in experience felt dragged out and thoughtless, and delayed us getting into our room until 430pm on the day we arrived.
Oceanfront villa with private pool
We were assigned room 102, one of the oceanfront villas with a private pool, and it was pretty spectacular. In reviews, I had read that a lot of the villas had obstructed views because of the brush, but not ours. We had dead-on views of the ocean that we could see from the bed, shower, terrace, and private pool. Check it out:
The room had really tall ceilings, which made it feel airy and spacious. As you enter, there is a sunken lounge area with a huge and very comfortable built-in sofa, cool tree stump tables, and a mini bar.
Up a few stairs is the king-size bed, which was comfortable. A sliding pocket door separates the bedroom from the huge bathroom with dual vanity sinks, large soaking tub, indoor and outdoor showers, separate toilet room and closet.
I loved the tiling in the bathroom and the scent of the amenities were some of the best smelling homemade products I have come across.
Back outside, the doors to the private patio collapse into each other allowing guests to create an amazing indoor/outdoor space. The patio had a dining table with two dining chairs, a rocking chair, plunge pool, and a sunning deck with fireplace.
The villas are not all the same layout, which I noticed from some photos on Instagram of other villa terraces. And as I mentioned earlier, the view of the ocean can be different based simply on how short the brush is cut. If you book a villa, I would definitely recommend looking at all of the villas they have available during your stay to see which one you like best.
One interesting fact the front desk associate told us about the villas is that all the plants on top of them were 98% of the original vegetation in that exact spot before they were built. They went to extreme lengths to preserve the surrounding nature, which I appreciated.
Main property
The hotel footprint is surprisingly large. As I mentioned earlier, there was construction of a new restaurant on one end of the property and dotted throughout were fenced unfinished buildings. I felt like this detracted from the aesthetic of the resort. Also, the signage was poor. It can be relaxing to wander aimlessly around the property, but also frustrating when you can't find the gym or spa.
The coffee bar, boutique and main restaurant, are located in the center of the property, aptly named Centro. Unfortunately, the coffee was not good. Luckily, we brought some from home that we made each morning. I currently travel with my Fellow's Staff Pour-Over Dripper, which is lightweight and gets the job done.
A bit further toward the beach is one of two pools and the pool bar. It was pretty popular during our stay and they played chill poolside music throughout the day. Since our room had a private pool, we didn't spend much time there.
The beach is down a sandy pathway and had a few cabanas that were first come first served. It was so windy during our stay that I never saw anyone using them. The water is too rough for swimming and the beach sand was rough with shells so it wasn't the most pleasant resort beach even though it looked beautiful.
The other pool is located near the spa and gym, which we visited multiple times and never saw another guest there. The water was also freezing, which might have had something to do with it. The gym was large with new equipment including 2 peloton bikes. I also loved that it had a turf covered outdoor area with battle ropes and tire.
There are two beautiful gardens on property, which are really fun to walk through and pick berries. It would be a peaceful place to meditate or read.
Through one of the gardens is main dinner restaurant, Botanica, which I loved. We had dinner there our first night and had a great experience.
Service
Unfortunately, service is where my experience at Rancho fell flat. In short, I would say front-line employees, i.e. those interacting with guests, are ill-informed and not empowered to improve guest experiences. A few examples…
When I called to reserve the breakfast experience, the guest assistant that answered the phone seemed confused and didn't know key details like what time and where to meet. He had to ask a supervisor.
We had an issue with our breakfast bill one morning and in order to take the dish off the receipt, the waiter had to go ask his supervisor. Apparently, he didn't have the password to remove charges and from a service perspective was not able to proactively remove the dish from our bill.
We called for housekeeping one morning at 830 as we left for breakfast, but the team didn't arrive until 1045 after we were finished with our morning activity and breakfast, which kept us out of the room until noon.
I reserved the breakfast experience one morning, which begins at 9am daily but the chef didn't show up. At 915, the front desk associate told me the breakfast experience would not be possible even though we reserved the experience 24 hours in advance and it was confirmed. The food and beverage manager came out and apologized for the mistake, and allowed us to do the breakfast experience the next day complimentary which was the most proactive customer service we experienced the entire visit.
Half of the time, no one picked up when you called the guest services line.
These grievances might seem small, but they start to add up on a short trip. I think our stay reminded us how much we value proactive and helpful service, and I think there is justification to paying for better service at an Auberge or Four Seasons property in Cabo. And with the rates Rancho Pescadero charges, it wouldn't be a huge price difference.
Food and beverage
I was really impressed with the food at Rancho Pescadero. Just about everything we had was delicious and extremely fresh. Most of the ingredients came from the gardens on property and it showed. Some of my favorites were the steak tacos, traditional caramel flan and the pizza night at their restaurant Botanica.
The sommelier was really sweet and we enjoyed talking about wine with her. The wine on offer skews Mexican, and it sounded like they really struggle to import smaller producers and are therefore stuck with larger houses of wine. Champagne options were also limited to two selections, including a non-vintage Taittinger. I'd definitely recommend bringing your own wine if you're a wino, otherwise I think guests would be happy with their cocktail and beer selections. We travel with this wine suitcase, and have loved it!
Final considerations
There is a lot of stiff hotel competition in Cabo, and I think there are better options out there than Rancho Pescadero. A few things to keep in mind if you're interested in booking a stay here:
The property is still under construction
Service is a major area for improvement
The food is fresh and delicious
This is an adults-only property
The ocean isn't swimmable
If you are determined to use your Hyatt points in Mexico, this could be a great place to redeem. But if it were me, I'd say save your Hyatt points for a different Hyatt property like a Park Hyatt or Alila and pick a different resort in Cabo that values service like Auberge or Four Seasons for a more luxury stay.