Getting there
Post Ranch Inn is located in Big Sur, CA, which is a 2.5 hour drive from San Francisco/SFO and the last hour or so is along the beautiful coastline on Highway 1. The closest airport is Monterey, which is about 30 minutes from the property.
After a quick stop to drop off our dog, Granite, at his weekend accommodations (the resort isn't dog-friendly), we arrived at Post Ranch a little after 2pm. The nondescript entrance could easily be missed, so I'd recommend using Google Maps to alert you.
Check-in
After a quick hello at the front gate, we headed up the drive to reception. There were two other couples checking in when we arrived, and the front desk team seemed flustered by the "rush." After a few minutes, a man standing by the valet stand said he could check us in, which felt impromptu, but he turned out to be the guest experience manager. He filled out a paper questionnaire with our answers to questions like if we wanted housekeeping during our stay, confirmed our dinner reservations and explained the benefits we'd receive since we booked through American Express Fine Hotels & Resorts. And then he asked us if we'd be ok checking out early by 3pm on Sunday. Jason and I thought that was really strange he was asking us to check out early.
One of the best benefits of booking a hotel stay through American Express Fine Hotels & Resorts is a guaranteed late checkout at 4pm. Other booking platforms typically only offer this benefit "based on availability." We gently reminded him of our guaranteed checkout time and let him know we'd be checking out at 4pm on Sunday. He then responded with, "Ok then we will have a bellhop at your door right at 4pm." The whole interaction was odd and at this caliber of a resort it did not feel welcoming to be talking about being rushed out the door the day of our departure five minutes into our arrival.
As I reflected on this more during our stay, I think the hotel is mismanaging their involvement with American Express Fine Hotels & Resorts. Since they are completely sold out through October, they're selling too many rooms through the program, and it's creating issues with turning a room over in time for the next guest. Bizarrely, the resort has pushed this issue onto the guest by asking them to check out early. Rather, I've seen other hotels limit the amount of rooms they sell through American Express, so they aren't in this pinch of guaranteeing a departing guest a 4pm check out and an arriving guest a 4pm check-in.
At 3pm our room wasn't ready, which was surprising since that is typically normal check-in time, but Post Ranch Inn has a delayed check-in time of 4pm. Even more reason we didn't want to be rushed out of our room on departure day.
We had lunch on the outdoor patio, to experience the dramatic view of the Pacific Ocean; however, it was completely fogged out the day we arrived.
Around 3:30pm, a staff member told us our room was ready, so after lunch we trekked back down to reception to finish checking in. A very kind bellman drove us to our room in one of the resort's Lexus Hybrid SUVs and gave us a quick tour of the property before dropping us off in room 123, the WB Post room.
Upper Coast House
My first impression of our upper coast house room was that it was tiny but well appointed, outdated but still had a rustic charm to it. It was in a building with four other rooms, a neighboring upper coast room with lower coast rooms below each. The deck had a small table and chairs and two loungers. The view was completely fogged out our first two days, but we finally got a clear day on our last day on property. Check out the view 😍
There was a two-seater couch with a wood-burning fireplace, which believe it or not, we used more than once during our stay the last weekend in July…
The bathroom had a shower/soaking tub combo and Post Ranch branded toiletries. The shower head was extremely low, and at 5'8" I just barely cleared it.
The sink and toilet were in a space that could be closed off with a sliding door, but oddly the ceiling didn't go all the way up so it wasn't fully enclosed. I found the bed to be firmer than my liking but not uncomfortable. And like many other reviewers have pointed out, the rooms have skylights but no shade/curtain to cover it so light pours very early. Don't expect to sleep in here!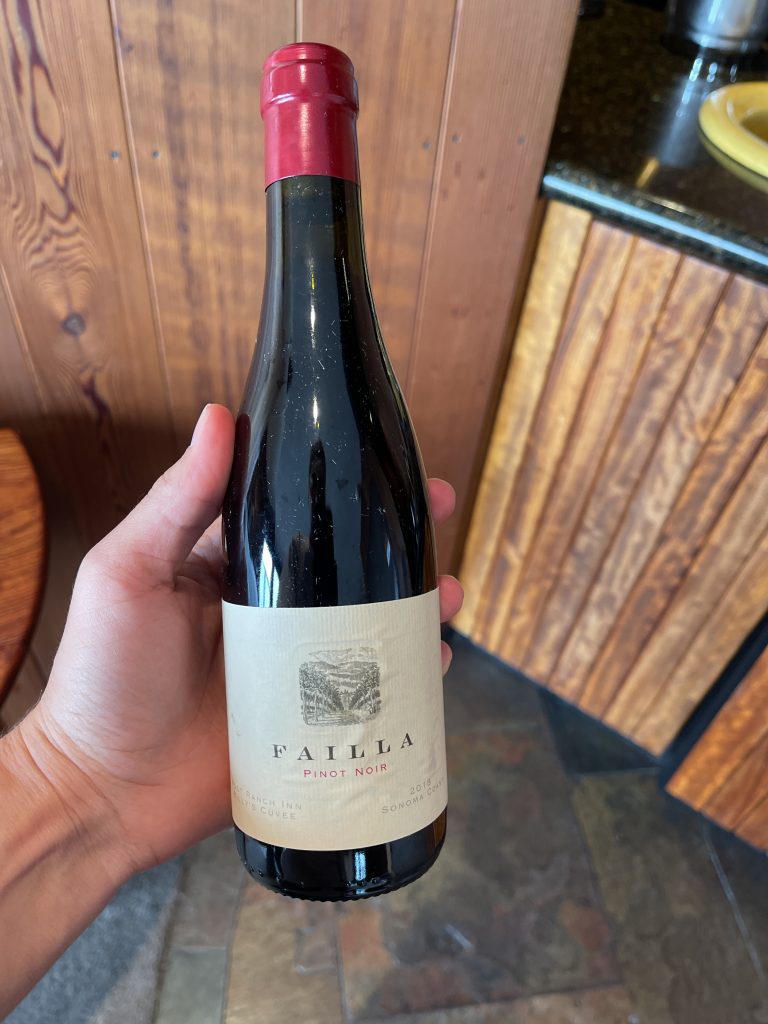 Main property
The sprawling resort has less than 30 rooms scattered about the perimeter of the property. They have a dizzying amount of room categories online to choose from, and once we were on property, we realized the categories online aren't even the names of the rooms. Here's the breakdown:
| | |
| --- | --- |
| Room category | only used online |
| Room name | used on property by staff & guests |
| Room number | never used |
Arguably, the most talked about rooms at Post Ranch are the treehouse rooms. They are stilted rooms with mountain views, but I was surprised to see how close they were to the main resort path rather than being set back into the woods. On our walks to the pools and restaurant, we could unintentionally see into many of the treehouse rooms. The ocean-facing rooms offered much more privacy since there weren't any windows facing the resort path.
💡 If you're keen on staying in a treehouse, we learned the treehouse room called "Boronda" is the most requested because it is the only treehouse room that has an ocean view from a corner reading nook (pictured below) and a mountain view from the small back balcony.
There are three pools on the property – the jade pool, the meditation pool and the swimming pool – which we were told are all clothing optional. We liked the meditation pool the most because it was heated and located at the end of the property so had fewer guests. The meditation pool was centrally located and close to the restaurant so it was always crowded. And the swimming pool was about a 15 minute trek from where the rooms are located so we went once to check it out but not to swim since it had no views.
Service
There was a marked difference in the quality of food and service from breakfast/lunch to dinner. The lunch food was mediocre, but our two dinners at the resort's fine dining restaurant, Sierra Mar, were highlights of our stay.
I was blown away that they offered a completely different four-course menu each night that was creative, delicious and fresh. Many of the dishes featured ingredients from the on-property garden. Service both nights was attentive and accommodating… I really wished that level of service extended to the main resort.
Housekeeping was another struggle for the Post Ranch staff. Turn-down service felt half-hearted because the curtains weren't drawn, the room wasn't tidied, and bathroom toiletries weren't refilled. The only thing I noticed they did was straighten the bed and place water on the bedside tables. The next day, after our room was cleaned, the mini-bar was restocked only after we requested it be restocked, which I found lazy. The resort likes to tout the complimentary mini bar that is "refreshed daily."
Breakfast was tasty and "complimentary" except for a $10 delivery charge if you want to have it in your room, which felt like the resort was trying to nickel-and-dime guests paying over $2000 per night. I thought this was especially unreasonable during COVID, when many guests might prefer to dine in their room instead of at the restaurant.
To avoid the delivery charge, we had breakfast on the restaurant deck our second morning, and found the service to be lacking. We waited almost 15 minutes to be given water or offered coffee, while most other tables were being served. My impression was that breakfast and lunch service needed more employees and better training.
Activities
There are about three miles of beautiful trails on the property, and we rarely ran into other guests on them. We bumped into a family of deer and a wild turkey on our hikes, which was exciting for two city boys.
The property has large-scale art installations throughout that, to be honest, looked rusted and out of place. But beauty is in the eye of the beholder, right? The only installation I found whimsical and fun was "the nest," which is a human-sized bird nest you could climb in.
There is a gym on site, and I was pleased to see two Peloton bikes available. As a litmus test on how current hotels are staying with their fitness equipment and guest needs, I've started noting whether or not there are Peloton bikes in a hotel gym. There is also a library, which I can only describe as fuddy-duddy.
Jason tried the complimentary yoga class one morning, which he said was awkward and ill-instructed.
Considerations
This resort is iconic and very expensive. Unfortunately, we stayed in a room that we discovered is due to be renovated this winter, so it's worth calling the resort before booking to find out which rooms have been recently renovated. Although, we toured "renovated" rooms, and I'd say the improvement was marginal.
Also, the resort sells out months in advance, so plan your trip accordingly. We booked our July stay in February, and the resort is completely sold out through October.
I really wanted to fall in love with Post Ranch, but I don't plan on returning and would not recommend it. It is a one-of-a-kind hotel in a sublime location, but the service and the overall experience didn't align with the prices they charge. I would, however, recommend dining at Sierra Mar. It was a gastronomical highlight of our trip.